Training: Foundations of Effective Advocacy and Communications in Ethiopia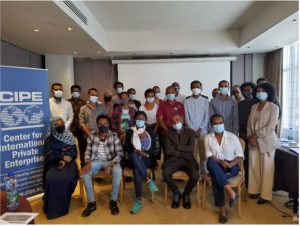 On March 25 and 26, the Center for International Private Enterprise (CIPE) East Africa Regional Office – through the CIPE Civic Engagement Hub – hosted a two-day, in-person training session on the Foundations of Effective Advocacy and Communications in Ethiopia. This training session was attended by 27 young and emerging leaders from CSOs, Social Enterprises, and the Ministry of Women and Youth Affairs in Ethiopia (participation was capped due to COVID-19 restrictions).
CIPE was joined by two Ethiopian experts, Million Feleke and Dr. Nardos Behanu, who led engaging training sessions on the fundamentals of impactful advocacy and communications.
During the training sessions, participants had the opportunity to take part in participatory training activities to encourage an engaging learning process. After the sessions, participants noted that the training enabled them to have a better understanding of both advocacy and communications:
"Advocacy is a new concept in Ethiopia. This training really equipped me to understand the steps of effective advocacy" – Kalewongel Tsefaye, Training Participant
Event Details
On Day 1, the training session covered an introduction to general concepts of advocacy, leaving participants with the tools and knowledge to identify and work through advocacy issues most relevant to CSOs and those engaged in social enterprise work. On Day 2, participants learned the basics of communications for emerging CSO and social enterprise leaders, from communication styles and "influencing skills," to effective government relations.
This 2-day training session was open to participants at all levels from CSOs and social enterprise organizations on a first come first served basis. Participants were able to register for one or both of the training sessions.
To comply with COVID-19 guidelines, registration was capped at 25 participants for each day, and all participants were required to wear protective face coverings (face masks) at all times and employed social distancing best practices throughout the training sessions.
Date: March 25 & 26, 2021
Time: 9:00am- 4:30pm (EAT)
Location: Mado Hotel (Namibia Street, on the way from Atlas to Bole Medhanealem)